Stretched Bar LCD Panel available in different sizes of 15.1'',19'',23.1'',23.7'',24'',24.5'',28'', 35'',36'', 36.5'', 37'', 43.8'', 46.6'', 49.5'', 50.1'',68'', 88''.
Catalog of Shelf Screen LCD Display.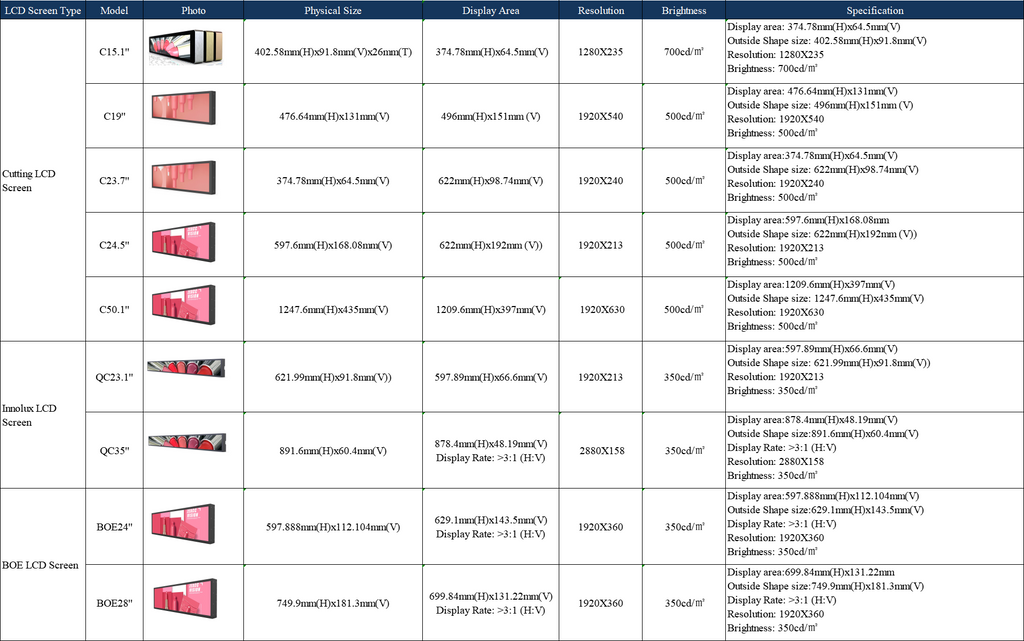 About Stretched Display

Stretched bar LCD display is a commercial display product with an ultra-wide LCD screen. In order to meet different needs, it has various display ratios of length and width.
Hauke Bar Type LCD display monitor commercial screens are designed especially for shelf edge integration in the retail environment.
Built-in powerful signage player and ready-to-use digital signage publishing system "BroadVisual", the ultra stretched digital shelf edge display is designed to work with the real-life requirements of the retail environment.
The HuaKe Supermarket shelf advertising LCD digital display screen is using LCD Panel from LG, BOE, and Innolux, also with the resized/cut stretched displays as a way to offer cost-effective overall solutions while remaining open to more possibilities. Shelf Edge Digital Signage Solution for Retail Environments have many sizes, configurations, and features, making them adaptable to all sorts of digital signage projects.
Applications:
The retail digital shelf display is an attractive Shelf Edge LCD Display well suited for a variety of in-store, on-shelf digital signage applications such as retail shelf edge pricing, retail shelf edge advertising, and multi-shelf digital signage in supermarkets, grocery stores, liquor stores, clothing stores, and other retail applications. Such a smart shelf system is end to end digital retail TFT shelf edge display solution perfect for retail POS applications, and it can turn your shop into a modern retail business to enhance customers' shopping experience.
Retail Shelf Edge Pricing
Retail Shelf Edge Advertising
Multi-Shelf Digital Signage
Features:
1. Slim design – Digital Edge Displays Slim design can complement any interior as it is light and visually appealing
2. Customized bracket designed for shelf environment makes it fit neatly onto the front of a shelf
3. Landscape and portrait orientation compatible
4. Auto copy playing-It can be auto-copy playing via USB sticker without WIFI.
5. Sync play or interactive play between different displays
6. High contrast, high brightness, greatly improving the layering of the picture, and better performance of details; Wide color range.
7. Shelf edge LCD display with slim and narrow bezel, advertisements are displayed without blocking the sight of consumers, thus creating a perfect shopping experience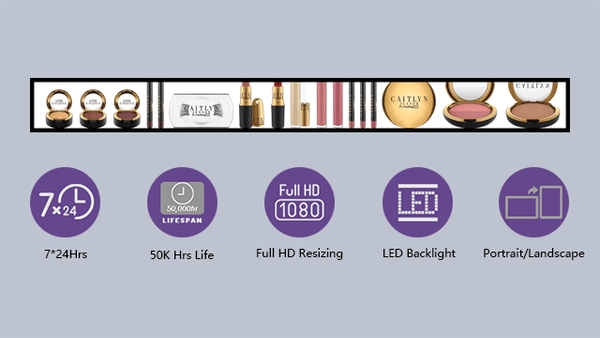 Notes:
One complete shelf display screen solution system should include below items
1. Bar type LCD display screen
2. Control Server (need to purchase separately, one server can load up with multi-units of bar screen)
3. Router (not provided, client should prepared at local)
4. Mobile Phone / PC (not provided, client should prepared at local)
The "BroadVisual" CMS is very powerful that has features below:
Operating Manual of BroadVisual System
Operating Manual of BroadVisual via Mobile APP

This shelf edge stretched monitor screen with a control server allows content to be updated from the server remotely by utilizing WIFI or via Lan. The shelf-edge digital signage display with ready-to-use CMS solution "BroadVisual" for flexibility and ease-of-use. With a mobile phone that you can manage the publishing contents setting and change, and turn the mobile phone into a remote controller for the Bar Screens in the same Lan.
1.Support real-time management and release on mobile, iPad, and PC
2. Support remote upgrade of advertising player software version and OTA upgrade
3. Support the advertising machines in the same group can be played synchronously and the synchronization interval is less than 500ms
4. Support the mobile phone to remotely set the properties of the advertising player, control the volume, rotation angle, time zone, turn off and turn on the advertising player
5. Support remote monitoring of the network status, system status, and hardware status of the advertising player, and monitor the content of the advertising player
6. Support the needs of multiple forms of rolling subtitles and bullet screens, the font, size, and content of subtitles and bullet screens can be edited
7. Scheduling supports multiple priority levels and supports shim/normal/interrupt/emergency message priority
8. Scheduling supports multiple recurring modes, recurring by day/week/month
9. It can support multiple media such as video/picture/marquee/subtitle/RSS/component/ppt/pdf
10. Support self-built template mobile phone one-key call to modify at any time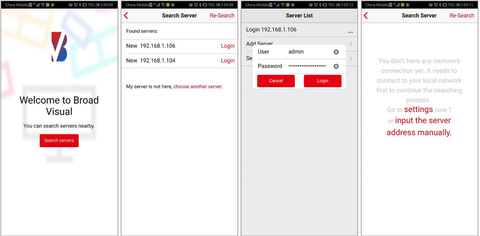 Your criteria did not match any products.