Stretched Bar LCD Panel available in different sizes of 15.1'',19'',23.1'',23.7'',24'',24.5'',28'', 35'',36'', 36.5'', 37'', 43.8'', 46.6'', 49.5'', 50.1'',68'', 88''.
Catalog of Shelf Screen LCD Display.
Catalog of all LCD Digital Signage Produts.
 About Stretched Display

Stretched bar LCD display is a commercial display product with an ultra-wide LCD screen. In order to meet different needs, it has various display ratios of length and width.
Hauke Bar Type LCD display monitor commercial screens are designed especially for shelf edge integration in the retail environment.
Built-in powerful signage player and ready-to-use digital signage publishing system "BroadVisual", the ultra stretched digital shelf edge display is designed to work with the real-life requirements of the retail environment.
The HuaKe Supermarket shelf advertising LCD digital display screen is using LCD Panel from LG, BOE, and Innolux, also with the resized/cut stretched displays as a way to offer cost-effective overall solutions while remaining open to more possibilities. Shelf Edge Digital Signage Solution for Retail Environments have many sizes, configurations, and features, making them adaptable to all sorts of digital signage projects.
Applications:
The retail digital shelf display is an attractive Shelf Edge LCD Display well suited for a variety of in-store, on-shelf digital signage applications such as retail shelf edge pricing, retail shelf edge advertising, and multi-shelf digital signage in supermarkets, grocery stores, liquor stores, clothing stores, and other retail applications. Such a smart shelf system is end to end digital retail TFT shelf edge display solution perfect for retail POS applications, and it can turn your shop into a modern retail business to enhance customers' shopping experience.
Retail Shelf Edge Pricing
Retail Shelf Edge Advertising
Multi-Shelf Digital Signage
Features:
1. Slim design – Digital Edge Displays Slim design can complement any interior as it is light and visually appealing
2. Customized bracket designed for shelf environment makes it fit neatly onto the front of a shelf
3. Landscape and portrait orientation compatible
4. Auto copy playing-It can be auto-copy playing via USB sticker without WIFI.
5. Sync play or interactive play between different displays
6. High contrast, high brightness, greatly improving the layering of the picture, and better performance of details; Wide color range.
7. Shelf edge LCD display with slim and narrow bezel, advertisements are displayed without blocking the sight of consumers, thus creating a perfect shopping experience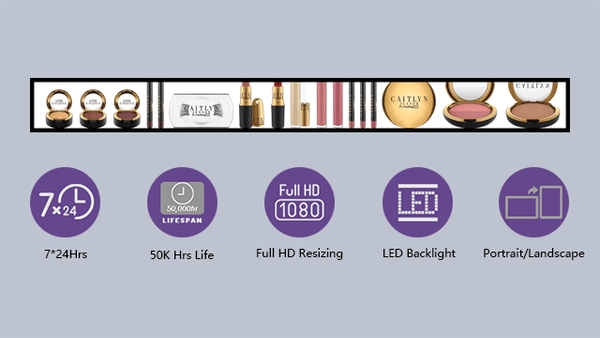 Notes:
One complete shelf display screen solution system should include below items
1. Bar type LCD display screen
2. Control Server (need to purchase separately, one server can load up with multi-units of bar screen)
3. Router (not provided, client should prepared at local)
4. Mobile Phone / PC (not provided, client should prepared at local)
The "BroadVisual" CMS is very powerful that has features below:
Operating Manual of BroadVisual System
Operating Manual of BroadVisual via Mobile APP