Roll over image to zoom in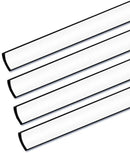 Description
DIY: More connection options, Great idea to upgrade your cabinets, shell and kitchen.
Reliable kit: 12V adapter, led lighting, connectors, DC connection cables and other accessories.
Super Bright & Brightness adjustable: Super bright LED cabinet lights, 1500 lumen, Warm White (3000K). 1600 lumen, Pure White (6000K).
Dimmer control: Rotate the button to control the switch and adjust the brightness. No Light Spots, No Glare.
Easy installation: 90°V Sharp Adjustable Installation Angle. All installation accessories are included. No tools required. Install light bars by yourself in minutes, just Clean - stick on -connect. Backed with strong 3M tape, screw-free to protect your furniture.
LED Cabinet Lighting V Shape
Are you searching for a kitchen/Cabinet lighting solution? Are there areas in your home or office where you need light, but you don't want to spend a fortune and a day on bulky lighting systems? Our LED Cabinet lighting just right for you! With self-adhesive pads, so we can install it easily. Super bright without LED dots, led lighting can cover the entire. the underside of the wall cabinet/Kitchen and therefore provides even lighting.

Specifications:
* LED Bar Length: 13"(DC connector cable 5.5")
* Maximum Cabinet Size Per Light Bar: 24"
* Voltage: 12V
* Total Watts: 4.5
* Efficacy: 72.0
* Lumens per Bar: 423
* Color temperature (in Kelvin): Warm White 3000K / Pure White (6000K)
* Color Rendering Index (CRI): 82
* Energy Star Approved
* Use 12V 2A UL Listed Power Supply,Input Voltage: 100-240,50/60 Hz,0.7A Max

Application:
*Before installing, make sure the destination surface clean and dry.
*To apply, simply adhere mounting clips to the light bar, attach to the desired location, and plugin. For a more permanent solution, use the screws in the kit. For speciality configurations, the various-sized jumper wires (included) provided additional flexibility.
*Kitchen Cabinet, Counter, Shelf, TV Back, Showcase etc.

Package Includes:
4 x 13" Led lighting
1 x 12V 2Amp Power Supply
1 x Dimmer
1 x Connectors
3 x 39" DC Connection cables
4 x Screws
4 x Mounting clip
8 x Wire Clips with 3M sticker preinstalled
8 x 3M double-sided stickers
Payment & Security
Your payment information is processed securely. We do not store credit card details nor have access to your credit card information.