Roll over image to zoom in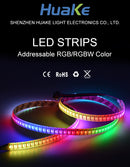 Description
As a digital LED strip, each addressable LED or LED Section has an integrated driver (IC) that allows the brightness and color of each LED/LED Section to be controlled individually, that is, an LED/LED Section can be a different color to the one next to it.
The low voltage addressable RGB or RGBW LED flexible strip lights drives by different type of IC, need to work with the compatible LED controller, then it can producs very rich colors and dynamic lighting modes.
With IC drived, each LED/LED section is a pixel, that the strips mounting in a proper matrix are able to programmable to display pictures or videos.

The strips come in a variety of brightness intensities, lengths, and weatherproof ratings to match any need indoors or outdoors.
All LED strips come with double-sided 3M adhesive tape, making any installation simple and easy.
Payment & Security
Your payment information is processed securely. We do not store credit card details nor have access to your credit card information.