Roll over image to zoom in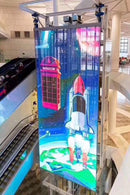 Description
aClear Series Transparent LED Display Screen in 1000x1000mm Aluminum Indoor Type for Glass/Window Display
Unit Price Here is per 1 Square Meter
Description:
A Transparent LED Screen is ideal for indoor window displays and are commonly used for reinforcing a brand.
To advertise or to inform, these screens are an excellent option for anyone who wishes to display content in style without blocking out light or the view on both sides.
It allows designers to offer a screen solution for retail buildings with a focus on glass architecture without detracting from the overall design.
Features:
UNWIRED LOOK
At the back between every two Tranparent LED Screen cabinet connection, an extra aluminum block is used to cover the joint to hide all wire connections.

GET ATTRACTIVE
This transparent screen opens up new creative options that were not possible with LCD screens and other LED screens.

BRIGHT ENOUGH
With brightness range from 800nits to 6000nits, the Transparent LED Screens are visible for both indoor and outdoor daylight from a great distance.

TRANSPARENCY
Traditional LED window displays act as a dark wall, so shoppers can't see in, and they block sunlight, so your indoor areas need to rely on unnatural lighting.
The Transparent LED screen allow people by both sides of the display can see each other.

MODULAR DESIGN - build the size you need
Available in small cabinet 500x500 ,1000x500, and 1000x1000, that can freely combine into large format LED Screens

EASY SETUP and INSTALLATION
Using lightweight engineered aluminum, the Transparent LED Screen is only 14-15kgs/sqm.
With fast lock, and plug-in connectors, just need to pull and push, then plug and play.

CUSTOMIZED OR OUT OF THE BOX
Besides standard size cabinet panels, the Transparent LED display can also be customzied to fit abnormal shapes or sizes.
Applications:
Windows, glass walls & facades
Corporate buildings & offices
Retail stores & shopping centres
Stadiums & arenas
Hotels & airports
Car showrooms
Specifications: 
| | | |
| --- | --- | --- |
| Part # | HKaC-P3/7-LC | HKaC-P3/7-HC |
| Pixel Pitch | P3.9/7.8mm | P3.9/7.8mm |
| LED Type | SMD2121 | SMD1921 |
| Scan | 16 | 8 |
| Viewing Distance | >5Meter |  >5Meter |
| Cabinet Type | Aluminum | Aluminum |
| Cabinet Size | 1000x1000x80mm | 1000x1000x80mm |
| Cabinet Qty./㎡ | 1 | 1 |
| Cabinet Pixles | 32768dots/㎡ | 32768dots/㎡ |
| Power Consumption | Max.150W/㎡ Avg.300W/㎡ | Max.150W/㎡ Avg.300W/㎡ |
| Brightness | 1500nits | 4500nits |
| Transparency Rate | 60% | 60% |
| Refresh Rate | 1920HZ | 1920HZ |
Payment & Security
Your payment information is processed securely. We do not store credit card details nor have access to your credit card information.