Industrial facilities consume a tremendous amount of energy. Accordingly, and as you might expect, these buildings are expensive to operate. Keeping the lights on is a significant part of your facility's cost of operations, and you may be consuming and paying for much more than you need to if you're using conventional lighting fixtures. Fortunately, there has never been a better time to look for new energy efficient lighting solutions. LEDs are changing the landscape and are available in all of the most commonly used fixtures in commercial buildings.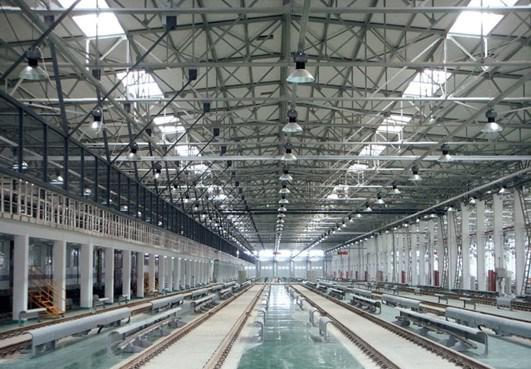 LED Warehouse Lighting: What is the best LED product for my Application?
High Bay Fixtures

 

are often used in warehouse settings which have ceilings approximately 25 ft and higher. They are used to light both horizontal and vertical working planes, and can be used with a variety of reflectors. Typically, high bay lighting fixtures have used fluorescent bulbs or metal halide bulbs in the past. While these types of industrial lighting have their advantages, LED high bay fixtures will outperform fluorescents and metal halides in important ways.
Low Bay Fixtures

 

are used in warehouses and other commercial facilities where both ceilings and mounting height are lower. High bay lights are not appropriate in these buildings because they may not distribute light properly. Like high bays, low bay lighting fixtures also typically use metal halide and fluorescent bulbs...but both are quickly losing ground to LED warehouse lighting fixtures.
Linear Strip Lights

 

are a great fit for large places like department stores or grocery stores. Some of their benefits include a smaller footprint and a cleaner look. When you consider LED strip lights for commercial spaces, there is also a smaller energy footprint as well. Historically, T12 and T8 light fixtures have been used when industrial strip lighting is required or desired.
Recessed Troffer

 

lights come in three standard sizes: 1' x 4', 2' x 2', and 2' x 4'. Conventional Troffer fixtures often include T12 and/or T8 Fluorescent lamps, ranging from 2-4 lamps per fixture.  They can be surface mounted, pendant mounted, or chain-hung.  LED Troffer solutions can consist of new LED fixtures, or LED Linear Tube retrofits, with the best option depending on existing operating conditions.  Troffer applications exist in a variety of Warehouse and Industrial buildings and facilities.  Whether you choose recessed or surface-mounted depends on ceiling fit and desired light performance.