Roll over image to zoom in


Description
5V-24V DC Wireless App Bluetooth Music Symphony Controller for Dream Color Magic Color Addressable Color Changing LED Flexible Strip Lights Max 960Pixels Controllable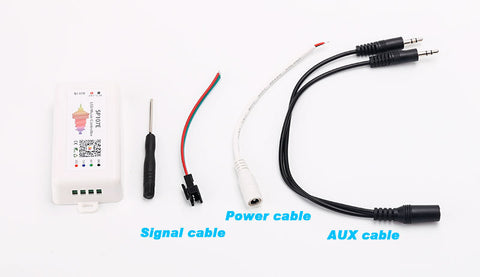 1. Features:
1. Mobile phone APP control, long remote control distance, user-friendly operation;
2. The sequence of RGB channels is adjustable, and supports common single-wire or dual-wire LED driver ICs on the market (optional support ICs in the App);
3. It can support up to 960 pixels and support simple point layout operations;
4. Built-in 18 kinds of light bar music effects, 30 kinds of light show music effects and 180 kinds of conventional non-music pattern effects;
5. DC5~24V wide voltage input, the power supply has anti-reverse connection function;
6. With the function of saving setting parameters when power off;

2. Download and install the mobile APP:
The controller is controlled by the mobile APP and supports IOS and Android systems.
• iPhone requires IOS10.0 or higher;
• Android phone requires Android 4.4 or higher;
• You can find the APP by searching for "LED Chord" in the App Store, Google Play, and App Store, or scan the corresponding QR code to download and install: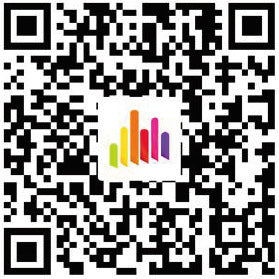 APP connection steps:
1. Make sure that the Bluetooth function of the mobile phone (or tablet) is turned on, and the positioning permission is turned on;
2. Open the APP, pull down to refresh the device list, find the device named SP107E, click connect, after the connection is successful, you can long press the device name to change the device name if necessary;
3. Set the RGB channel sequence and IC model of the lamps used according to the actual situation;
4. Set the number of pixels of the lamps used according to the actual situation;
5. After the setting is complete, click Enter.

Audio input mode switch:
SP107E audio input supports microphone and audio line input in two ways:
•If you need to input audio through the audio cable, insert the male end of the supplied 1/2 audio cable into the AUX IN port of the controller, and the other male end into the audio output device (such as MP3, mobile phone,
Tablet, etc.), the female head can be connected to a speaker for playing music, and the controller will automatically switch to the audio line signal input mode;
• If the microphone input audio is required, do not connect the audio input AUX IN interface, the controller will automatically switch to the microphone signal input mode.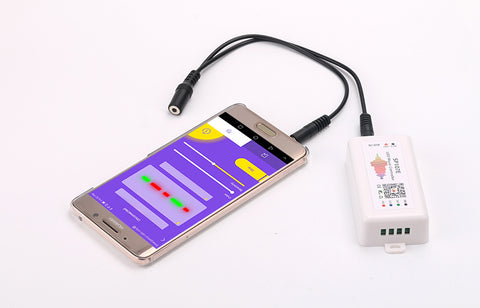 4. Technical Parameters:
Working temperature: -20℃~60℃;
Working voltage: DC5V~24V;
Working current: 18mA~45mA;
Remote control distance: 20M;
Size: 85mm*45mm*22mm;
Net weight: 40g;
Certification: CE, RoHS;

5. Support IC:
WS2811, WS2812B, WS2813, WS2815, WS2818, WS2801
SK6812, SK6812-RGBW, SK9822
P943S, P9411, P9412, P9413, P9414, P9813
TX1812, TX1813
GS8206, GS8208
TM1804, TM1814, TM1913
APA102, APA105
SM16703, UCS1903, LPD6803, LPD8806


6. Connection method:
Video presentation for how to use: https://youtu.be/lIrXTQcWI1w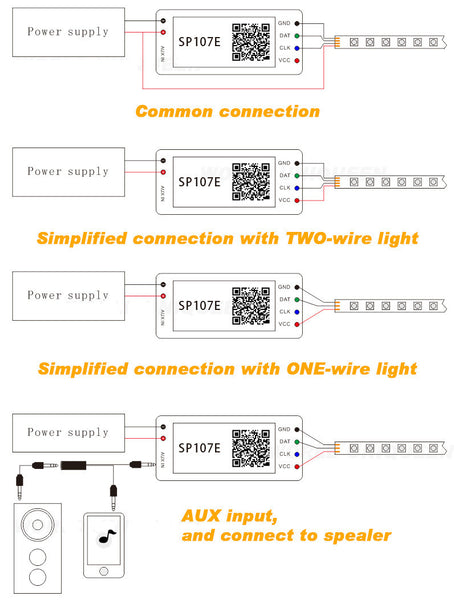 Payment & Security
Your payment information is processed securely. We do not store credit card details nor have access to your credit card information.