Roll over image to zoom in





Description
NOTE: This item is on sale for US market now, total 100 pack available that can ship from US warehouse directly.
And the price is for US local delivery only. 
【Heat Dissipation Aluminum Profile】The aluminium profile is made of high-precision, high-strength aluminium, with fast heat dissipation, durable corrosion resistance and wear-resistant.

【Protective Cover】 The milky white cover works well to help spread the light and makes the LED light diffuse, gives a soft and uniform light.

【Aluminum Channel Inner Width】38mm(1.50inch) inner width, this aluminium channel works with LED strip lights and waterproof strip lights less than 38mm(1.50inch) wide.

【Installation Method】 U-shaped aluminium track, rigid construction of anodized extruded aluminium profile without flange for both hanging and surface mounting LED lighting projects. The package included the suspension wire for hanging installation. Punching cable hole in the aluminium profile according to the installation conditions.

【Package included】5pcs 3.3ft aluminum channel, 5pcs 3.3ft milky white cover, 10pcs end caps and 10pcs suspension wires.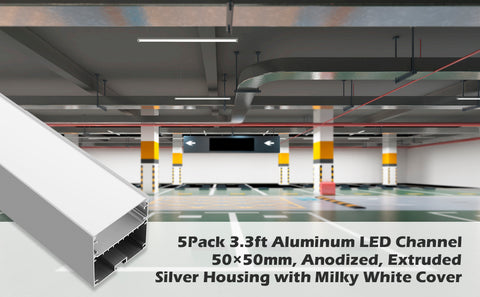 Bingotec Aluminum LED Channel, 50×50mm, Anodized, Extruded Aluminum Profile for LED Lighting, 5Pack
Aluminum profiles for LED tape light fit in cabinets, stairs, ceilings, closets, floors, and walls. The result is light precisely where you want it without the need for bulky, obtrusive light fixtures. Aluminum channels are a crucial part of any linear LED fixture. They act as a durable, lightweight housing and again a thermal management source for LED strip lighting of any color temperature, color, or output.
Use a strip with high intensity and choose an aluminum profile that is deeper in height.

LED Aluminum Profile Features
LED Aluminum Profile for strip light provides a modern and clean linear lighting solution for any type of application. Easily create custom low voltage lighting fixtures, by using aluminum profiles and covers with LED strip lights. The modern, long lasting, bright, and linear lighting fixtures are perfect for any home, business, indoor and outdoor lighting applications.

High-pressure tensile aluminum shell, GB matte oxidation, corrosion resistance, not easy to scratch. The appearance is generous and beautiful. High purity embossed or glossy aluminum reflectors provide more efficient light refraction and utilization. The design is scientific and reasonable, sturdy and durable.
Payment & Security
Your payment information is processed securely. We do not store credit card details nor have access to your credit card information.