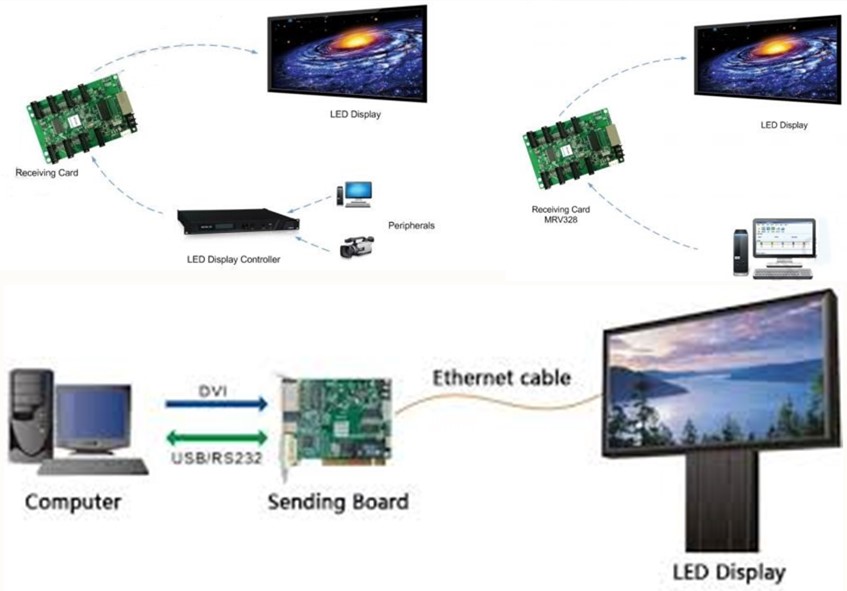 As much as we google online for some info sometimes, it doesn't mean it would be equivalent with your effort like the words typing over the searching column, and most of description is written off the info statistics, hence, we get some trouble of finding the answer. It's obviously wanting to build up the entity of LED display system at first, like we all know signal of image or video carried by the digital medium and is sending out to the sending card as the first receiver, and actually it is the first receiving card instead of its name described here, because we need know this card will finish a job of signal collecting-up and encryption an so on, however, it's not difficult for us to get two things - how many of interface types will be available for input signal transform and what are numbers of them, seemingly the two factors will allow you to get if this card is supporting the sync, in addition, you will know your audio and video will be delivered at the same time rather than disorder of playing.
Counting to the next, you will access the real receiving card, loading ability, what sort of interface or ports it has, what kind of signal it will receive and recognize the signal, the other factor of card itself will be what sort of interface it has, and maximum LED module groups it can support, resolution ability, of course, the image quality or video presenting, like all general thing we know, the display quality will not be presented fine if the card is loaded too much, you can never expect that your production can work at peak all the time.
Controller, Video Processor, Video Production Console, these integrated devices are designed with high-end ICs and diversity of ports either related to input or output, apparently it will be capable of supporting a large program of LED display, that's why some special interfaces or rare types of ports for huge LED display screen are necessary to keep this system running well, and support more accessing ways for them to assemble as one part of the entire system, you have to know each point well before you want to build up the LED display screen, beware of roles they are acting and some critical parameters about card, processor, console and so on, as well as compatibility they are grouping up to display your ads to customer on the screen eventually.