Before our purchasing online or in front-store for LED lights, we need to know the measurement of light like Lumens, PAR, CRI, etc, then make a decision of which LED lights working best for your need, we are always not well prepared to accept some slangs like PAR20, PAR30, PAR38, what do they really mean for LED lights and how to figure out the indicative numbers and letters.
PAR is officially a short-going format of Parabolic Aluminized Reflector, and we take it as the indication of what type LED lamps are belonging to, It is widely used for the same effect like the stage, aircraft landing lights, home-living lights, etc, PAR LED lights are running for good effect under the lower budget.
| | | |
| --- | --- | --- |
| Term | Diameter in inch | Diameter in millimeter |
| PAR46 | 5.75 | 145 |
| PAR38 | 4.75 | 120 |
| PAR36 | 4.5 | 115 |
| PAR30 | 3.75 | 95 |
| PAR20 | 2.5 | 65 |
| PAR16 | 2 | 50 |
You must realize what these affixed numbers mean? PAR20: 20 denotes, the exact measurement from brim to brim of LED lights, that is to say, 20/8 inch in diameter, approximately 64mm; PAR30 is standing for 30 denotes, 30/8 inch in length near to 95mm, PAR38. 38 denotes, 38/8 inch in length, is equal to 120mm.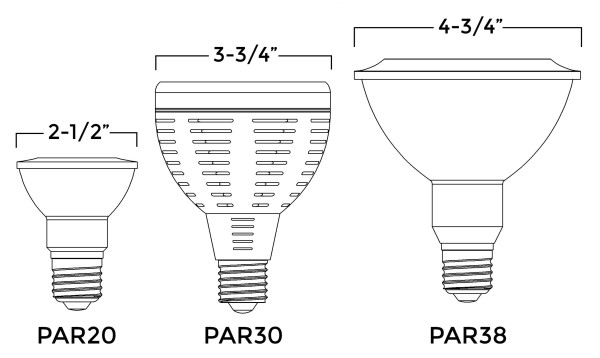 All the above we are talking about is relative to the diameter, you will notice the difference, it will have PAR lights beaming in compact  angles in spite of the shapes of lens in flat, round and so on, this feature will be more useful than the traditional halogen lamp, also can be placed at plenty of sites for special lighting, such as flush lighting from the ceiling, or the particular lighting direction like stage show, wardrobe recessed lights as well as overhead lights in the bathroom.